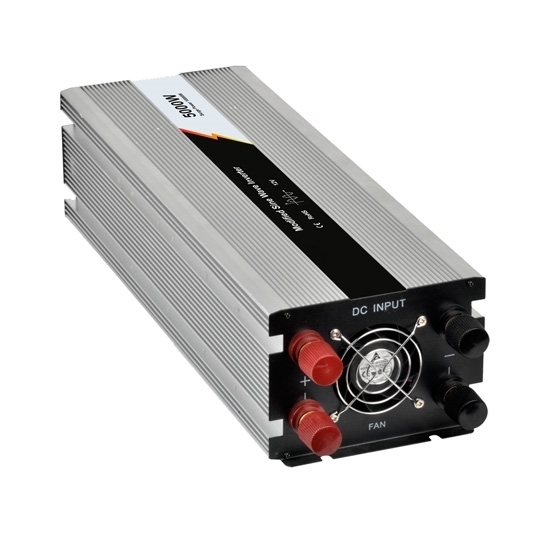 5000W modified sine wave power inverter with 10000 watt surge power, optional with DC input 12V/ 24V/ 48V and AC output 110V/ 120V/ 230V/ 220V/ 240V. With full protections against under/ over voltage, over load, overheating and more, this car inverter is equipped with universal household socket and USB port to meet your multi-needs, best power source on the road.
Features
5000 watt continuous and 10000 Watt peak power for relaible replenishment
Two AC household power outlets – converting DC vehicle's power to AC power for electronic devices
USB charging port – powering your USB compatible devices such as cell phones, laptops, tablets (iPad), players, etc.
Multi security protections – high voltage, low voltage, overload, overheating, short circuit (reverse polarity connect)
Durable construction, easy installation and high efficiency – ideal for use on road trips, vacations, work trips, camping and other outdoor activities
Built-in temperature-controlled cooling fan with low noise
Specification
Rated power
5000W
Peak power
10000W
Input voltage
DC12V/ DC24V/ DC48V
Output voltage
100VAC or 110VAC or 120VAC±5%/ 220VAC or 230VAC or 240VAC±5%
Unload current less than
0.9A/ 0.5A/ 0.35A
Output frequency
50Hz±0.5Hz or 60Hz±0.5Hz
Output waveform
Modified Sine Wave
USB port
5V 1A
Max. efficiency
88%/ 90%/ 92%
Input voltage range
9.5-15.5V/ 19-31V/ 38-62V
Low voltage alarm
10.5±0.5V/ 21±0.5V/ 42±0.5V
Low voltage protection
9.5±0.5V/ 19±0.5V/ 38±0.5V
Over voltage protection
15.5±0.5V/ 31±0.5V/ 62±0.5V
Low voltage recover
12±0.5V/ 23±0.5V/ 46±0.5V
Over voltage recover
14±0.5V/ 28±0.5V/ 56±0.5V
Low voltage
Alarm at first; voltage continuously reduces, LED Red light on & shut down.
Over voltage
LED Red light on, shut down
Over load
LED Red light on, shut down
Over temperature
Alarm at first; temperature continuously rises, LED Red light on & shut down
Short circuit: LED Red light on
Input reverse polarity
Fuse burn-out
Working temperature
-10℃ ~50℃
Storage temperature
-30℃ ~70℃
Dimension
589x180x130mm
Cooling method
Intelligent cooling fan
12/24V DC to AC Power Inverter Wiring Diagram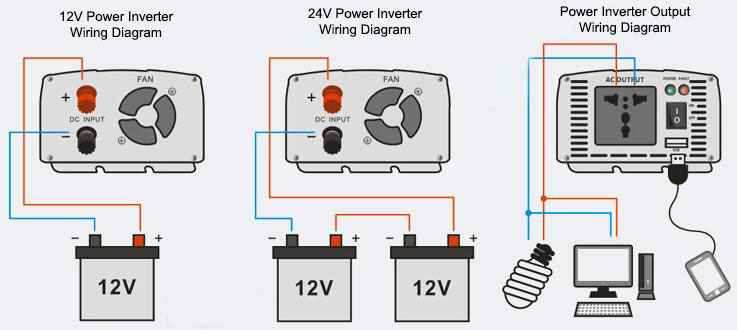 Note: The connection of 48V power inverter with batteries is similar to the wiring of 24V inverter, and the batteries is connected in series.