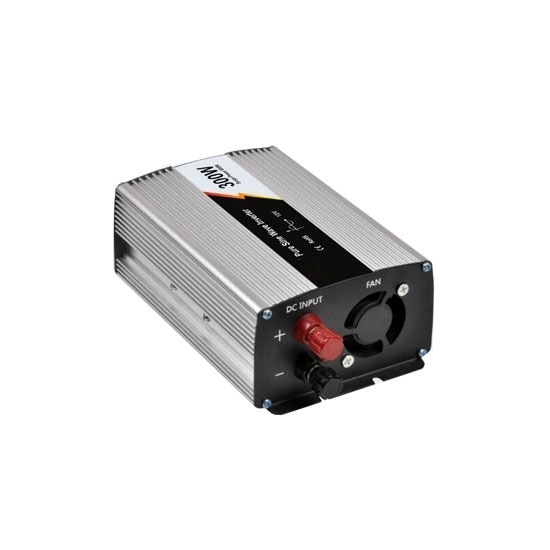 An power inverter is an electronic device that converts direct current (DC) to alternating current (AC). A sine wave is a continuous wave that describes a smooth repetitive oscillation. Conventional AC power is produced by rotating machines and is mathematically described as a sine wave. It is the ideal waveform for the transfer of AC power with very low harmonic distortion. Pure sine inverters can power just about any AC appliance without risk of damage.
So, what should we pay attention to when using modified sine wave inverter? There are 6 tips for you.
DO NOT plug small appliances into the inverter AC receptacles to directly recharge their nickel-cadmium batteries. Always use the recharger provided with that appliance.
DO NOT plug in battery chargers for cordless power tools if the charger carries a warning that dangerous voltages are present at the battery terminals.
Not all fluorescent lamps operate properly with a modified sine wave inverter. If the bulb appears to be too bright, or fails to light, do not use the lamp with the inverter.
Some fans with synchronous motors may slightly increase in speed (RPM) when powered by a modified sine wave inverter. This is not harmful to the fan or to the inverter.
Certain rechargers for small nickel-cadmium batteries can be damaged if plugged into a modified sine wave inverter. In particular, two types of appliances are susceptible to damage:
Small, battery-operated appliances such as flashlights, cordless razors and toothbrushes that can be plugged directly into an AC receptacle to recharge.
Certain battery chargers for battery packs that are used in some cordless hand-tools. Chargers for these tools have a warning label stating that dangerous voltages are present at the battery terminals.
DO NOT use a modified sine wave inverter with the above two types of equipment.
The majority of portable appliances do not have this problem. Most portable appliances use separate transformers or chargers that plug into AC receptacles to supply a low-voltage DC or AC output to the appliance. If the appliance label states that the charger or adapter produces a low-voltage DC or AC output (30 volts or less), there should be no problem powering that charger or adapter.