If you need emergency home backup power because your home experiences power loss during thunderstorms, hurricanes or severe winter weather, an inverter charger helps keep essential appliances running.
Most often, emergency home backup power runs off a standard car battery, essentially turning your car into a generator. The car should be kept running while the inverter is in use to prevent the battery from becoming depleted. The power inverter can still be used if the car is off, but this is not recommended for prolonged periods. If you do use the inverter without the engine running continuously, start your car up every hour and let it run for 10 minutes to recharge the battery.
To create an emergency backup system without a vehicle, you can hook up two 12V car batteries to one inverter. That will provide enough power to run the average household refrigerator for up to two days, depending on the size of the batteries, the size of the fridge and how full it is. It's a smart idea to have a spare battery or two on hand in case the power failure exceeds your battery runtime.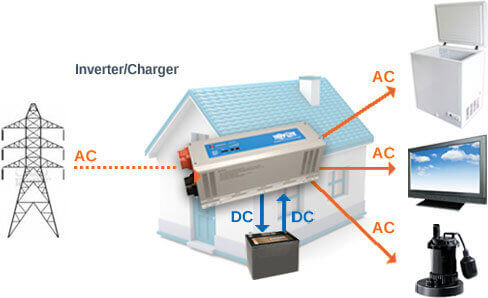 Look for an inverter or inverter/ charger with a wattage capacity greater than the appliances you need to keep running. Refer to table below: Typical Wattage of Common Home Appliances.
| | |
| --- | --- |
| Device/ Appliance | Typical Wattage |
| Desktop Computer with Monitor | 200 – 400W |
| Laptop Computer | 20 – 75W |
| Inkjet Printer | 15 – 75W |
| Gaming Console | 125W |
| LCD TV, 32″ | 50 – 70W |
| LCD TV, 42″ | 90 – 250W |
| Table Lamp with Incandescent Bulb | 60W |
| Table Lamp with CFL Bulb | 13 – 15W |
| Table Lamp with LED Bulb | 6 – 9W |
| Fluorescent Tube Light | 40W |
| Coffee Maker, Drip | 550 – 1200W |
| Coffee Maker, Keurig | 200 – 1500W |
| Microwave Oven | 1000 – 2000W |
| Refrigerator, 15 cu ft. | 240W |
| Vacuum Cleaner | 300 – 1500W |
| Tabletop or Box Fan | 50 – 120W |
| CPAP Machine | 200W |
| Hair Dryer | 1200 – 1600W |
| Space Heater | 1000 – 1500W |
| Furnace Fan | 75 – 400W |
| Electric Drill | 700W |
| Electric Screwdriver | 60 – 300W |
| Circular Saw | 1250W |
| Jig Saw | 350W |