Now, with our dependency on electricity for almost everything, things become difficult. The situation worsens during summers. To get rid of these frequent power cuts, it is recommended to use an inverter. A power inverter is one of the most commonly used appliances. It is an essential device that can be found not only in factories but also in homes, schools, offices and public buildings. This appliance can save the day in the worst case scenario of a power outage.
Like every other appliance, inverters are also prone to glitches. There are some common problems that people face with inverters. Thankfully, some of these problems can be easily fixed without any expert help. Let's discuss some common issues with inverters and their solutions.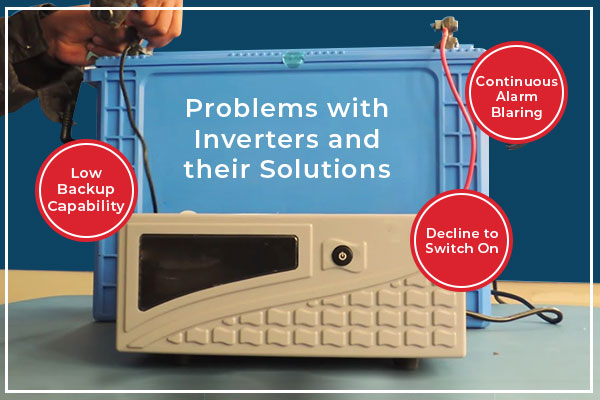 Decline to switch on
Some reasons due to which an inverter fails to get switched on:
When an inverter is tripped.
When the battery is disconnected from an inverter.
If the inverter has a weak battery.
When inverter battery is discharged.
A battery having loose terminals.
If the terminals of the battery are reversed attached.
When an inverter is connected with a faulty switch.
There are different ways to solve these different issues. Resolve the tripped inverter problem by pressing the reset button. Repair a power switch if it is causing issues. In case of a faulty or defective battery, get it changed. If an inverter has a weak battery, let it be charged for some hours. If battery terminals are raising problems, check whether it has corrosion, clean the rust and clamp them tightly.
Continuous alarm blaring
This situation happens when an inverter bears too much load. The solution to this problem is to disconnect all the devices that cause an extra burden on the inverter. Another reason for alarm blaring is the trouble with its cooling fan. While an inverter works, this fan maintains a cool temperature in it. If the fan will not be operating correctly, either the inverter will blow an alarm or shut down. It indicates that a unit of an inverter is not running properly. So, clean up the fan and make it work properly.
LCD shows incorrect codes
A frequent glitch of an inverter is that its LCD does not show the correct numbers. It can happen due to:
External issues
Internal problems
Internal problems can be related to circuits. Hence, a professional would be required to solve them. The external problems can be resolved by:
Inspect battery cables
Check input and output wires
Recheck the load
Low backup capability
One of the major problems with inverters is a very short backup time. The reasons can be:
Too much power consumption.
Charging battery incorrectly.
Low electrolyte Level
These three issues can be resolved by eradicating extra loads, charging a battery for a few hours, and refilling water in a battery respectively.
Battery fails to charge
The reasons for this issue can be:
Dead battery
Burnt rectifiers
Melted fuses
Loose connections
In this case, replace the battery and clean the terminals for corrosion
Inverter makes noise
Usually, inverters make noise. But why the inverter make noise? But it gets increased when its fan collects a lot of dust and debris. To get rid of this issue, clean the fan. If the noise persists, change the fan.
These are some problems occur in inverters with the solutions. Invest in a good inverter to make your life easier.